MUSICIAN
MUSIC BIO

 
Kenny Kirkwood is a Juno award-winning Canadian musician who has toured internationally in a career spanning three decades.  He has worked with Gord Downie, Kim Mitchell, Jacksoul, Kevin Breit, NOJO and Paul Reddick.  Kenny has also opened for James Brown, Al Green and performed for Quincy Jones.
Harlem-born, Kenny spent his childhood in Zambia, experiencing traditional Bemba and Nyanja music, language and culture, and hearing local folk and pop groups and church choirs.  These experiences deeply ingrained in him the value of the communal and spiritual aspects of music, song and dance in everyday life.
Over the last decade Kenny has collaborated with Indigenous people on Turtle Island and worldwide in working towards reconciliation.  He worked with Anishinaabe and Onkwehón:we 2-Spirit people to create "Reconciliation Through Music 2017," a concert fundraiser in support of the, "I Am Affected," campaign supporting 2-Spirited people.  In 2018, he performed with Mohawk singer-songwriter Lacey Hill and  The Wild Blueberry Band at Six Nations Pride.
In recent years he has performed with several award winning Haudenosaunee blues-rock-jazz artists including Derek Miller, Joshua Arden Miller, Cheri Maracle, Murray Porter and The Ollivanders.
 As a creative composer-songwriter, Kenny has led several bands known for their dynamic and interactive performances.  His Zambian-inspired collective ZAMCAB was featured at AfroFest 2003 in Toronto. In 1999, his smooth jazz group A BAND CALLED KITE, released their debut CD, "Kite Tales," recorded live at Toronto's premiere jazz venue the Top of the Senator.
Kenny was raised as a youth in multicultural Toronto, influenced by the diverse mix on the creative art scene.  He was a key member of groundbreaking ensembles as jazz-rock big band NOJO, modern sax quartet 40 Fingers, world music group Vuja De, and played with innovative recording artists including Rich Brown, Andrew Downing, Rita di Ghent, Tim Posgate, Rob Clutton and Steve Koven. With these peers and mentors, he honed his musicianship and voice, earning a reputation for his soulful improvising and rhythmic discovery.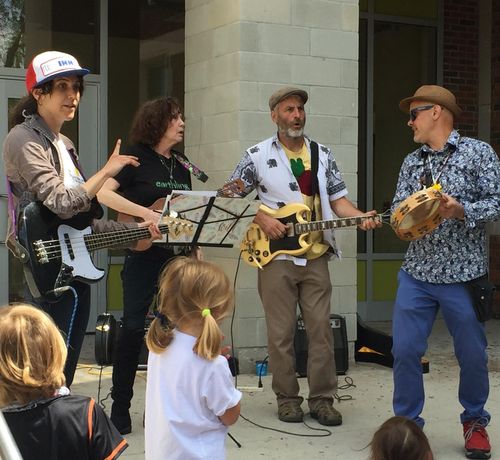 "Who is this man who sounds so happy?" 
- Avril Benoit - CBC Radio
"Kirkwood's bari-sax broke from the gate like a raging bull out to get him some matador for lunch. It roared, it shrieked, it bellowed, it flew around, wild-eyed and snorting."    
- Stephen Pederson - Halifax Chronicle Herald 
"Kenny's playful rhythmic music is very challenging... performed with ease and energy...very natural and a lot of fun for the audience." 
- Michael Occhipinti - Juno-winning bandleader, Artistic director
"The songs give me a lot of images...the melodies are great...the harmonies are really warm....it all just takes you." 
- S.D. singer/songwriter, fan.
"...amazing and truly unique sound. Your CD is also GREAT!"
- A.L. -bandleader,  fan 
MUSIC EDUCATION 
KENNY KIRKWOOD has a Bachelor of Fine Arts degree from York University where he won several awards and scholarships for jazz performance. He attended the International Jazz Workshop at the Banff School of the Arts in 1990 and 1999 under the direction of Steve Coleman and Kenny Werner respectively. His transcriptions are included in Paul Berliner's definitive book "Thinking in Jazz." 
KENNY KIRKWOOD was the founder and director of the Blue Moon Music School in Toronto, customizing lessons for students and groups of all ages. He has developed and coached workshops and ensembles for diverse groups, and has worked as a clinician for several Ontario school boards.  He has a Bachelor of Education degree from OISE, University of Toronto.
FACILITATOR
FACILITATOR BIO 
Kenny has co-created and facilitated music-focused workshops in education, corporate, health care and multi-faith sacred/ceremonial environments. He collaborates with clients to design custom workshops that allow people of any age to safely explore music and develop new communication paradigms to strengthen relationships and build morale.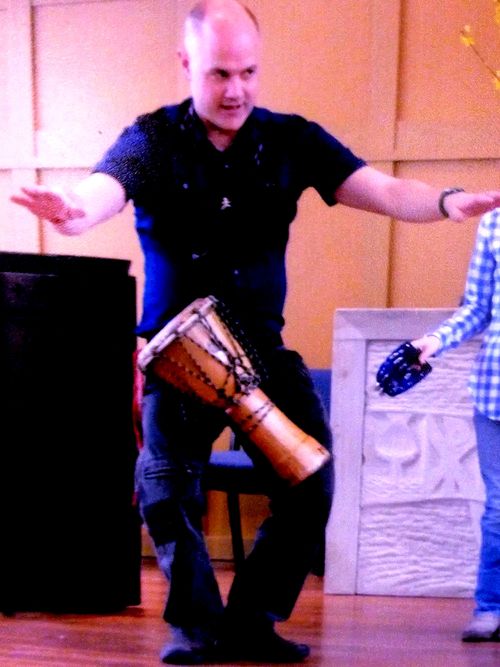 "Kenny guided me into an improv experience that was safe, satisfying and musical! He enriched the musical life of our community!" 
- Becca Whitla - Music director, Holy Trinity Anglican Church 
"Working with Kenny is smooth as silk. Kenny makes a laid back impression, but he delivers all the goods: great arrangements, sensitivity to the setting and attention to detail. He brings the beat, the soul, and can play with a team."
- R.W. - Advocacy Alliance AIDS Campaign 
"In addition to his musical talent, Kenny possesses a spiritual depth and rich imagination that makes working with him both a joy and a venture in new creation. Be prepared to think and make music outside the box of standard composition. A liminal experience!"
- Hallett Llewellyn - Minister, United Church of Canada 
 "Kenny has a wonderful way of getting people to affirm their own musical sense. He gets everyone involved through movement, sound and playing. He comes to workshops with his own ideas, but is ready to adapt to the needs of the people he is working with."
- Doug Varey- Minister, United Church of Canada